Online Business Intelligence
Eirta offers a powerful tool - on line "Business Intelligence" for the managements to monitor their business in a simple while immediate way.
The Managements are no longer have to wait for the business report. Business Report usually is only a historical record, not the fact of the current state.
Not more than 3 clicks, the managements will be able to know every sector of the company's business and activities (Total 16 Modules) in Real-Time mode.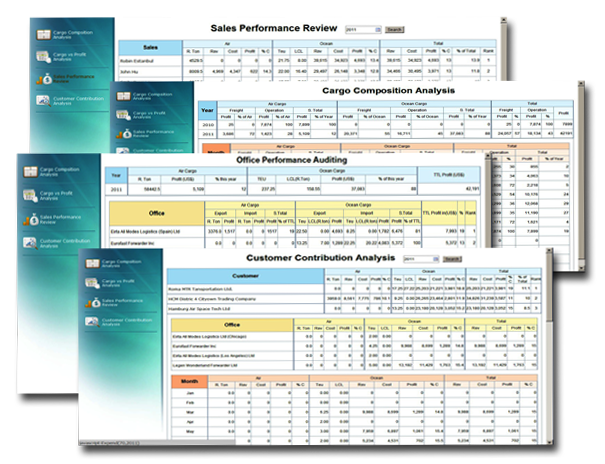 Sales Performance
Sales Performance, Ranking and Auditing
Sales vs. Productivity by Month
Group's Over All Performance and Profitability
Group's Profit Analysis - Cargo Freight & Ground Operation
Group's Profit Analysis - From Air & Ocean
Group's Cargo Handling Volume - From Air & Ocean
Member offices & Agents' Performance and Profitability
Member Offices' Profit Analysis - Cargo Freight & Ground Operation
Member Offices' Profit Analysis - From Air & Ocean
Member Offices' Profitability & Ranking
Member Offices' Profit from Export & Import
Member offices' Cargo Handling Volume - Air & Ocean
Customers' Support and Contribution
Customers' Contribution and Ranking
Individual Customer's Profitability Analysis
Individual Customer's Contribution - Air & Ocean
Individual Customer's Cargo Volume - Air & Ocean
Customers' Contribution per Member Offices
Customers' Cargo Volume per Year/Month